mainly music™  is about young children and their parents or caregivers enjoying music, rhyme, rhythm, creative dance and more. It is also an opportunity for parents and caregivers to socialise and find support.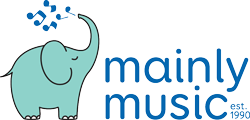 mainly music™  is run at the church every Tuesday morning during the school term. 
We start at 10:00am with music and movement followed by morning tea and a play time for the children. 
The first session is free so you can see if this group is a right fit for you.  Thereafter it is $3 per child or $5 per family if more than one child.  Concession cards for 10 weeks are available ($25 and $45 respectively) and can be used at any time.  We are always happy to make alternative arrangements around this. 
Young children develop co-ordination, fine motor movements, large motor skills, social interaction, appreciation of music and musical styles, and language development.
If you would like to register for Mainly Music, please give our Children's Pastor Wendy a call on 566 0467 or get in touch via email.
You can find out more about mainly music at the national website:
Tuesdays During School Term